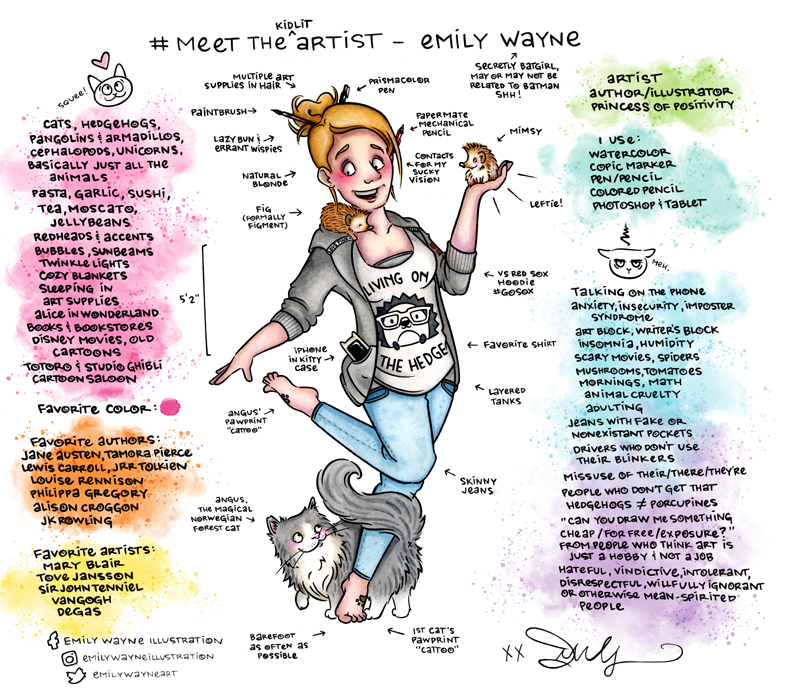 Thanks for stopping by my little corner of the interwebs! Let me tell you more about myself!
I am an illustrator, artist and all-around crafty sort (in the creative sense of course!) based in the beautiful Pioneer Valley of Western Massachusetts where I live and work with my family and my menagerie of animals that includes a Chihuahua, a Tabby, a Norwegian Forest Cat, assorted fish, two African Pygmy Hedgehogs and a cockatiel. (You'll see them pop up in my work quite often!) I am a kitty lover, a hedgehog enthusiast, obsessed with Alice in Wonderland, and I may or may not be related to Batman – shh! I have my BFA in Illustration from Massachusetts College of Art & Design, and am an active member of SCBWI.
As long as I can remember I have loved to draw and spent most of my free time doing so. My parents will attest that I've been drawing since I could first hold a pencil, and they've got the stashes of childhood artwork to prove it! There has never been any doubt that my future would be in art.
Ever since I picked up that first pencil, my medium of choice has been colored pencil. I love the solidness, the feel of the pencil in my hand. The way it can create both sharp lines and loose texture, the solid and vibrant colors. I can still remember the day my parents bought me my first complete set of Prismacolors and how I would just open the case and gaze at them, reluctant to even sharpen them. Even now when I'm stuck I sometimes open the case just to run my hands over them. Colored pencil is a time-consuming and labor-intensive medium, my hands get cramped and calloused and I often wonder why I do this to myself, but it's a love affair I've never been able to break.
As I've grown as an artist my style has evolved to include other mediums as well. One of my favorite ways to work is a combination of watercolor and colored pencil. Most often I prefer to work with a loose and limited background of wet-on-wet watercolor with the vivid colors and details of the colored pencil in the foreground keeping the emphasis on the character. I love the contrast between the bold colored pencil and the softer and more fluid watercolor. I also enjoy working in watercolor alone, and I frequently sketch using Copic markers and am learning how to incorporate them into my finished work as well.
My style is very bright and whimsical with vivid colors and bold lines. I love drawing animals most of all and often take inspiration from my own menagerie. I'm a giant kid at heart and I like to draw inspiration from the things I enjoyed as a child. My childhood fantasies always had animals that could talk, enchanted forests, fairies, magic... I try to incorporate a sense of that childhood wonder into the work I do now, and I'm lucky to be in a profession where refusing to grow up is a good thing!
I hope that you enjoy looking at my work! Be sure to like me on Facebook, or follow me on Instagram or Twitter for more frequent and fun updates and sneak peaks at works in progress! You can also find me on LinkedIn, check out my shop on Etsy, and you can send me an e-mail at heyemilywayne@gmail.com where I welcome all questions and comments!